Sunny days are finally here, the nature is completely green and there are so many things to do here in Switzerland. Besides exploring around and enjoying the sun I made for you a list with all the events that are going on around Switzerland this month. June is mainly loaded with music festivals this year! So here is your fun events list:
1st of June
St. Gallen: Longines CSIO- Official show jumping tournament of Switzerland with the world's best show jumpers and their top horses from the 1st till the 4th of June.
Basel: Groove Now Blues weeks will take place in Basel between the 01.06-23.06 and present the best and most exciting international blues and soul musicians.
Lausanne: Luna Park- every year, the Bellerive area is invaded by dozens of carousels and yums such as: Lollipops, pancakes, French fries and hot dogs. Till the 11.06.
Schaffhausen: The annual gourmet festival with 23 top restaurants – award-winning GaultMillau restaurants. As well as, businesses that have dedicated themselves to home-style cooking, cook a specially created, multi-course gourmet menu. When: until the 4th of June.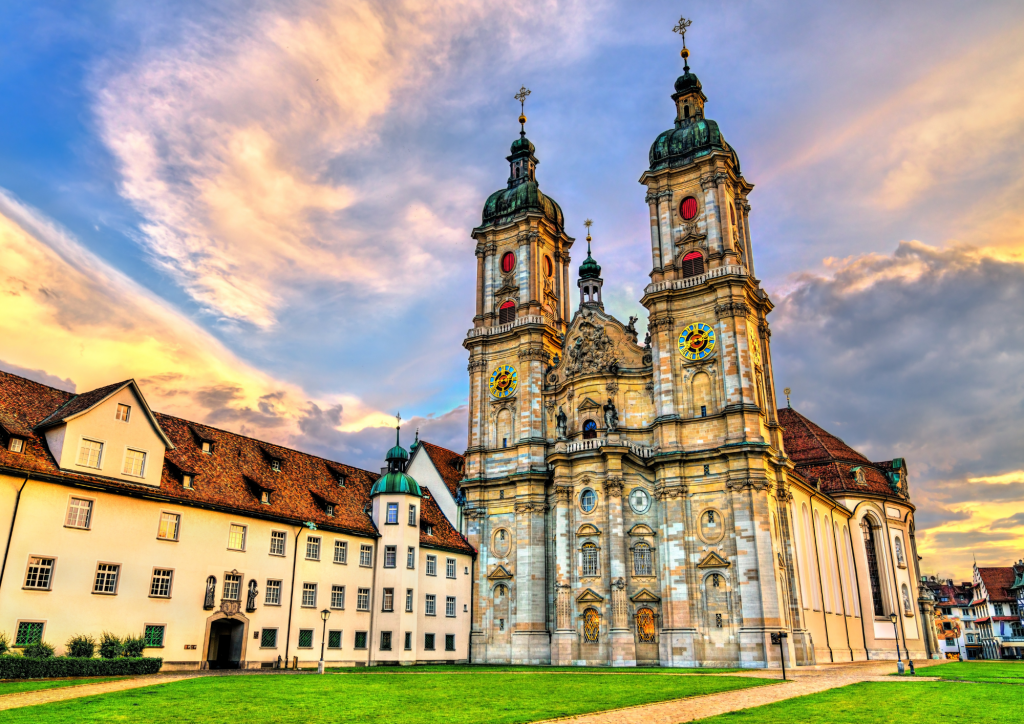 2nd of June
Solothurn: Food Truck Festival will take place between the 02.06-04.06 with 25 different food artists from around the world. In addition, you can find live music alpaca trips and many activities for kids.
Lausanne: Wake up and run event– 5km race at 5:30 in the morning!
Avenches: Celtic'Fest- Two days of festivities dedicated to the Celtic world, its music and its gastronomy in the heart of the city of Avenches!
Fribourg: Pérolles Festivities- The Pérolles festivities will take place from the 02.06-03.06 with Stands, bars, culinary yums, music and entertainment for kids.
Lausanne: The CHOCOLATE – ELECTRONIC DELIGHTS FESTIVAL is an electronic music festival that comes to life one weekend a year at the Pyramids of Vidy, on the edge of the lake Léman.
3rd of June
Bern: Changemaker Festival- A festival that puts changemakers visible with inspiration, motivation, optimism and sustainable ideas
Frauenfeld: Historical craftsmen and goods market- Realistic history for the 9th time! Taking you on a colorful tour through many centuries to discover crafts, camp and soldier life, weapons and show combat, as well as music and jugglery. In addition, there are home-made products, food, drink and games for the little princesses and knights.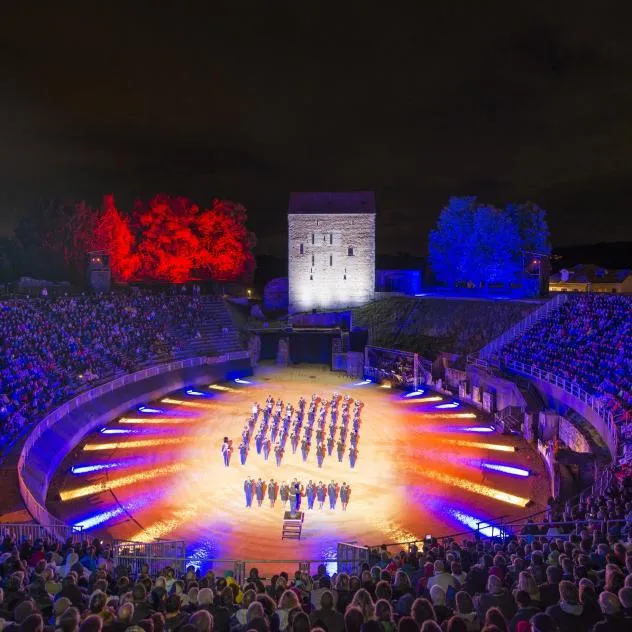 4th of June
Alpnach: The Schwingfest – Swiss national wrestling competition is back in canton Nidwalden and invites you to see the games.
7th of June
Crans-Près-Celigny: The Caribana, a festival committed to making the party beautiful and respectful of its audience and its environment! Where you will find a diversified musical program, a magnificent natural setting and a high standard of hospitality. When: from 07.06-11.06.
8th of June
Fribourg: Corpus Christi is a big celebration with a procession and local brass band.
Veysonnaz: A traditional procession to celebrate the Fête-Dieu. When: 10:00-13:00.
Lötschen: Traditional Procession of the "red soldiers" are a legacy from ancient soldiering days.
Biel: Running Days are Biel's largest sporting event. The competition includes races over different distances and attracts a great many visitors from near and far. When: 08.06-10.06.
Matten bei Interlaken: The Greenfield Festival is The biggest rock festival in Switzerland.
Vevey: Vibiscum Festival is a music festival with a new edition full of surprises including the arrival of Orelsan, the French rapper with nine music victories and that of DJ Snake, star of the electro scene.
Engelberg: Paragliding Alpencup is one of the most high-profile competitions in the paragliding scene and can be compared to a well-attended World Cup. Taking place between the 08.06-11.06
Spiez: Beach Volley Turnier with two groups of 28 (women and men) registered from over 20 nations. Numerous teams from Switzerland will set up in the wonderful Beach Arena.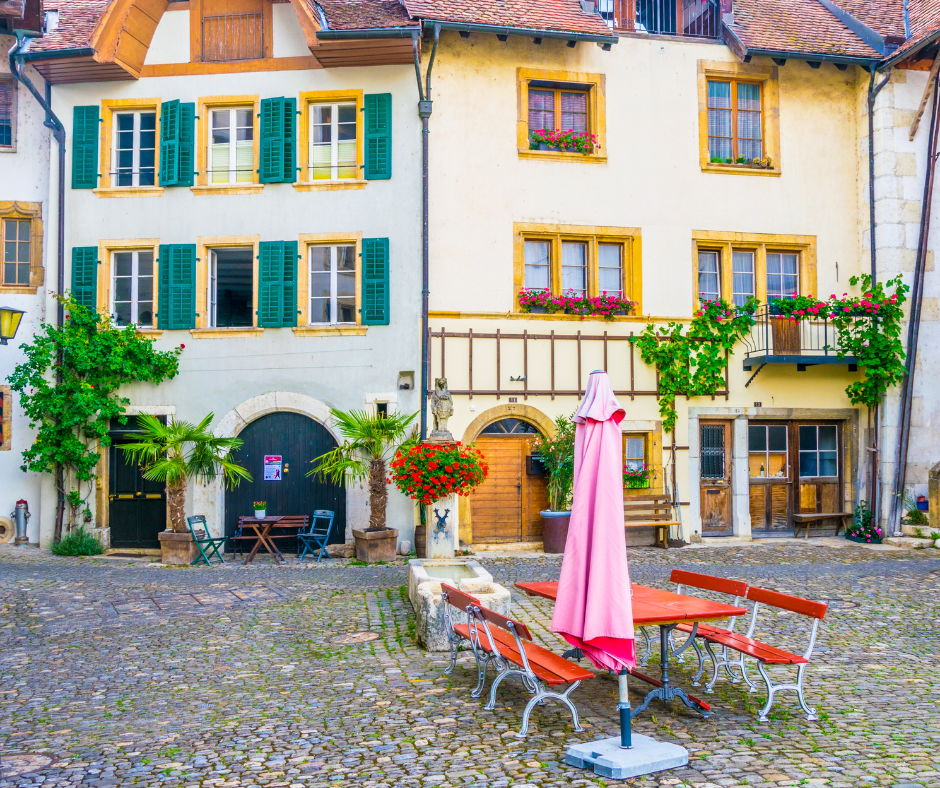 9th of June
Aarberg: Stars of Sounds festival- The historic town of Aarberg is an insider tip for nostalgics and gourmets. The festival site is located on the picturesque town square from the 09.06-10.06.
Aigle: Aigl'in Music Festival- The small festival is now playing in the big league! From young artists to headliners.
Einsiedeln: Tour de Suisse 2023- As the fourth largest professional cycling race in the world. The Tour de Suisse runs through all parts of Switzerland in eight stages. During the weekend in Einsiedeln you will find a folk festival atmosphere from Friday evening, June 9th to Sunday, June 11th.
Porrentruy: FESTI'LIVE- on June 9th and 10thyou can find a bold Pop-Rock program in around 6 exceptional concerts.
10th of June
Locarno: The city will stay awake all night long creating space to culture, music, art and entertainment. Live-concerts, dance performances, street artists, stalls with culinary specialties.
Geneva: ATLETICAGENEVE, international athletics meeting of Geneva. If you love sport come and support the best Swiss athletes and the young talents of Geneva in an atmosphere of high international competition.
Grächen: Traditional cow fights- If you like Swiss traditional events spending a day watching cows fights is the event for you.
Switzerland: World Heritage Days- 5 UNESCO World Heritage properties in Switzerland open their doors during the second weekend of June and invite you into the world of our Heritage with unique experiences!
11th of June
Bulle: The city of Bulle will hold a organic market on the theme of biodiversity in the garden and seeds. If you decide to visit maybe sure to combine it with a visit to the stunning medieval town of Gruyeres, The chocolate factory Cailler or the Cheese factory La Maison du Gruyère.
Rapperswil-Jona: IRONMAN 70.3- The IRONMAN 70.3 is a triathlon of the particularly pretty variety: the swim course of 1.9 kilometers leads through the crystal-clear waters of the upper part of Lake Zurich, called Obersee. A beautiful 90-kilometer bike course follows the lake and runs along lush pastures and more.
13th of June
Lavaux: Classic Festival- The Lavaux Classic festival celebrates classical music with artists from the region and internationally renowned. When: from the 13.06-25.06.
14th of June
Caslano: The Blues festival will take place in Caslano between the 14th to 18th June. Which traditionally inaugurates and launches the long and intense musical summer in the Canton of Ticino.
15th of June
Schaffhausen: Culture Days- A cultural festival for everyone with creative artists. When: 15.06-18.06.
Neuchâtel: Festi'neuch- an open-air Festival with the latest hits from the worlds of rock, pop, reggae, world music and electro.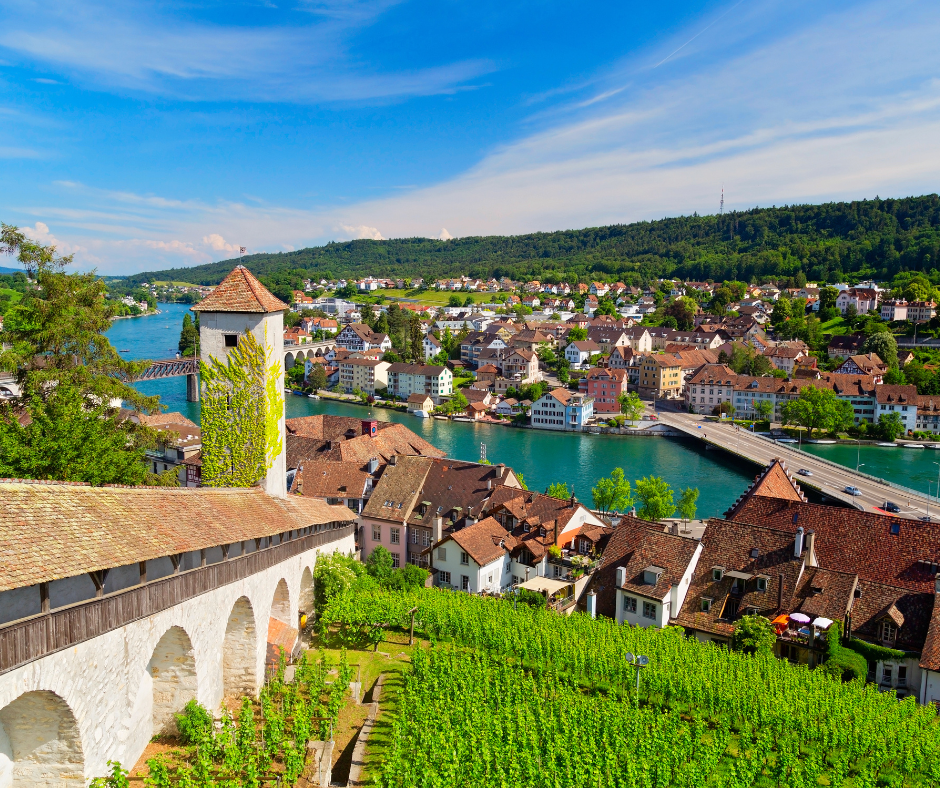 16th of June
Zug: Federal Yodeling Festival- Yodeling and celebrating right on the lake. Yodelers, flag-wavers and alphorn-players from around 500 associations as well as national and international guests are expected at the Yodel Festival. 
Zurich: Pride Festival- A colorful parade in Zurich against discrimination and for the rights of the LGBT+ community will take place between the 16th to the 17th of June.
Zurich: Obenuse Fest- The ultimate punk rock festival in downtown Zurich with 30+ bands.
Rapperswil-Jona: blues'n'jazz festival- claims to be one of the most important Swiss meeting places for music lovers.
Estavayer-le-Lac: Rose Festival- The medieval town is dressed in roses during a whole weekend!
Arbon: PADL Festival- will take place on Lake Constance in Arbon. The program is varied and offers water sports enthusiasts exciting experiences, competitions and a cozy atmosphere with fine gastronomy by the lake.
Valais: Cantonal Gymnastics Festival- with about 2,000 gymnasts from all over the canton.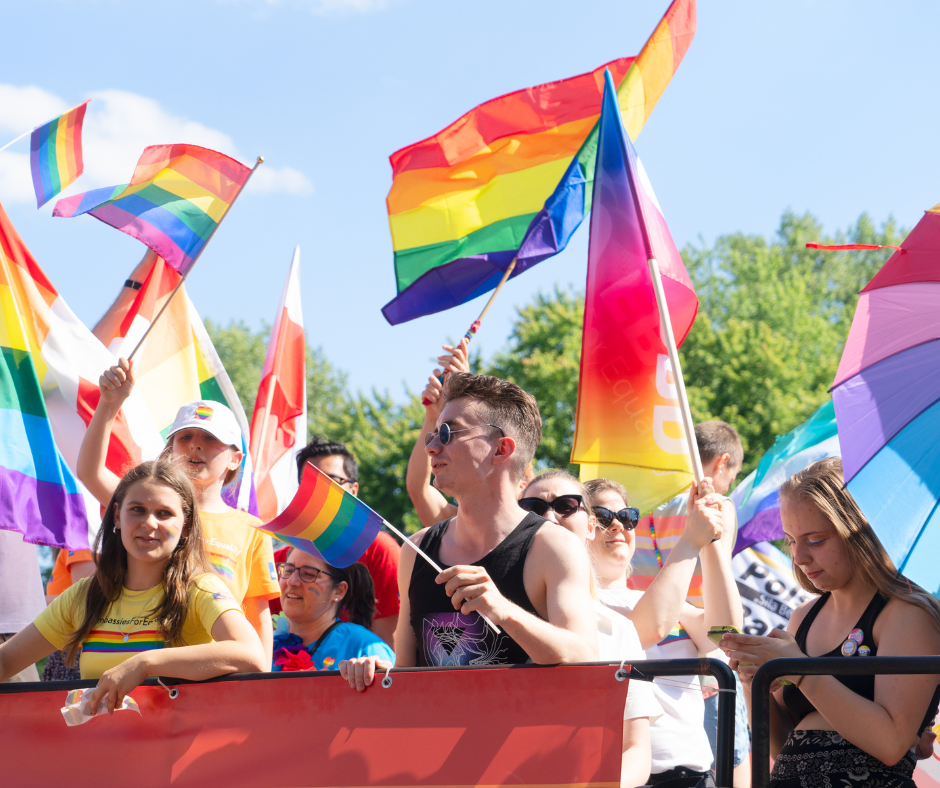 17th of June
Zurich: Opera for All- The free opera will be broadcast live from the Opera House on a big screen on Sechseläutenplatz.
Nyon: Fête de la Musique- The music festival include many bands playing on the 9 stages all around the town.
Einsiedeln: Medieval Market- with merchants, jugglers, musicians, craftsmen, mercenaries, army camps and knights.
Gstaad: Swiss Folk music festival in the Promenade of Gstaad.
Spiez: Spiezathlon 2023 for sport lovers in the region.
Yverdon-les-Bains: 'Fête Eau-Lac'- During two days of celebration on the shores of the lake, numerous local and regional associations offer visitors their sports and aquatic activities.
Montreux: Dance Festival- A stage for amateur and professional dancers: hip-hop, contemporary and flamenco on Saturday; classical, modern and Latin dance performances by local schools and companies on Sunday.
Lavaux: The GospelAir Festival- with more than 500 singers from the French-speaking part of Switzerland who will perform on ephemeral stages in the Lavaux.
Mesocco: Medieval Festival at the Castle- rediscover the Middle Ages with the medieval festival to be held at Mesocco Castle.
Flims: Traditional Swiss Wrestling Festival- with around a 150 athletes from the different cantons.
Aletsch: Half Marathon Weekend- The 21.1 km long, challenging running course through the UNESCO World Heritage Site. The view of the Great Aletsch Glacier and the four-thousand-meter peaks of the Valais. This makes the Aletsch Half Marathon the most beautiful mountain run in Europe, attracting up to 2500 runners from Switzerland and abroad every year.
21st of June
Lausanne: Music Festival- The Fête de la Musique is an opportunity to see concerts all over the colorful city of Lausanne.
Payerne: The Red Pigs Festival – the Festival of Music with a bold choice of artists.
Morges: Fête de la Musique- A music festival for the public open to amateur or professional artists mixing all musical genres.
22nd of June
Murten: Solennität Festival- The town will be decorated with flowers and offer many activities such as dancing, games and crossbow shooting.
Bremgarten: Leuefäscht- 11 festival islands through the city: over 50 concerts, pubs, bars, around 3.5km festival mile with Luna park and many other attractions.
Lugano: Summer Jamboree on the Lake- Four days of fun celebrating American music and culture of the 40s and 50s.
Ascona: JazzAscona- The picturesque town of Ascona will immerse itself in the world of music, hosting one of the biggest jazz events in Switzerland.
Fribourg: Belluard Bollwerk- The festival welcomes theater, dance, performance, music, visual arts and art in public space.
23rd of June
Neuchâtel: Asian Street Food Festival- come and enjoy Asian cuisine at the Asian Street Food. 26 food trucks, food stands and bars await you on the Place du Port in Neuchâtel.
Matten bei Interlaken: International stars and top bands from Europe and Switzerland provide the finest Western ambience with cool bikes, super music and unique atmosphere for modern cowboys.
Grenchen: Summerside Festival- The Summerside Festival will be held in Grenchen near the airfield, beautiful Jura mountain range with musical world star.
Neuchâtel: Festival of music- a rich and varied program with more than 40 bands.
St. Gallen: 18th St. Gallen Festival- The monastery courtyard of the UNESCO World Heritage Site with its magnificent Baroque cathedral becomes the backdrop for an opera drama.
Bad Ragaz: Quellrock Openair- The musical fesival at the ruins of Freudenberg Castle.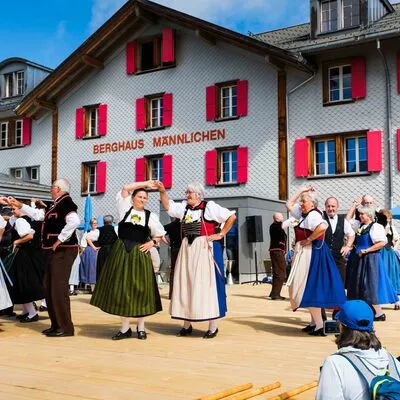 24th of June
Kreuzlingen: Chrüzlinger Fäscht- a colorful national festival for the whole family with music, dance, workshops and more.
Veysonnaz: Inalpe in the pastures of Combyre- The traditional cows fights of Alpine breed -the herds of Hérens.
Wetzikon: Swiss Road Bike Championship- On June 24th and 25th, the medals in the various road and para-cycling categories will be awarded in the Zurich Oberland.
Tramelan: Bernese Cantonal Wrestling competition- The Swiss Women's Wrestling Festival will take place on Saturday 24th of June and the Bernese Cantonal Wrestling Festival on Sunday 25th June.
25th of June
Grindelwald: Mountain Spring Festival- A great place to enjoy Swiss Tradition and folklore.
Interlaken: Brünig steam train rides Interlaken – Meiringen, Steam trip along Lake Brienz to Meiringen and back.
26th of June
Zug: Chriesigloggä- Zug is a cherry canton. The «Chriesigloggä» (cherry bell) celebrates the opening of the cherry season. This all goes back to an old tradition, when locals used to rush off with long ladders (men and children) and with big panniers (women) through the old town to start picking the cherries grown on nearby common land. These days the «Chriesisturm» (cherry storm) is celebrated just for fun and is followed by the opportunity for a splendid lunch and the traditional cherry market.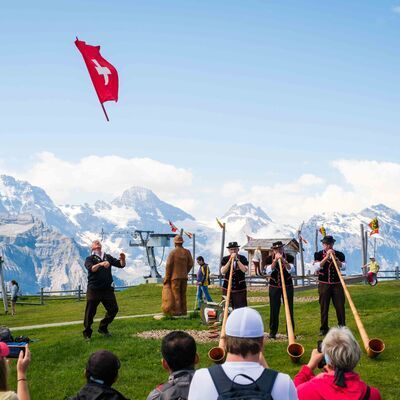 30th of June
Montreux: Jazz Festival- Nearly 250,000 spectators come to the Festival each year, enjoying a breathtaking setting, concerts with renowned acoustics and numerous free stages. When: 30.06-15.07.
Lausanne: Athletissima – A glorious world athletics meeting, Athletissima is THE sporting event of the summer in Lausanne.
Engadin: Road Bike Marathon- The bike race leads from Zernez over impressive mountain routes, past the Swiss National Park, along reservoirs, over high passes and through impressive valleys.
Zurich: Latin Music Festival- A colorful festival in Zurich for lovers of Latin American music, cuisine and culture.
Biel: The Biel summer festival- with music, markets, Luna park and activities attracting around 100,000 visitors.
St. Stephan: Hangar Rockin' Festival- The biggest Rock'n'Roll, Custom & Classic Car & Bike Meeting in Europe.
Winterthur: Albanifest- The largest Winterthur festival with a historical background going back more than 750 years with over 50 local clubs and countless musicians, market stalls and preformances.
Klosters: Schlager and Folk Music Openair.
Neuchâtel: Film Festival- The Neuchâtel International Fantastic Film Festival (NIFFF) is an unmissable cinematographic event. This event is mainly dedicated to a specific film genre: fantasy. This main axis is completed by two other complementary themes: digital creation and Asian cinema.