Hey there, fellow wanderlusters! Have you ever dreamed of a place where towering mountains high-five the sky and your taste buds tango with gooey Swiss cheese? Well, hold onto your hats because Zermatt, Switzerland is the real deal!
Nestled snugly among the Swiss Alps, this little slice of heaven is a jackpot for adventure junkies and nature enthusiasts alike. So, let's strap on those hiking boots, grab a fondue fork, and dive into all the awesome things you can do in Zermatt – the coolest mountain village around!
Disclaimer: This post contains affiliate links. This means that I will (might) earn a small commission if you purchase something using my link through my blog at no extra cost to you.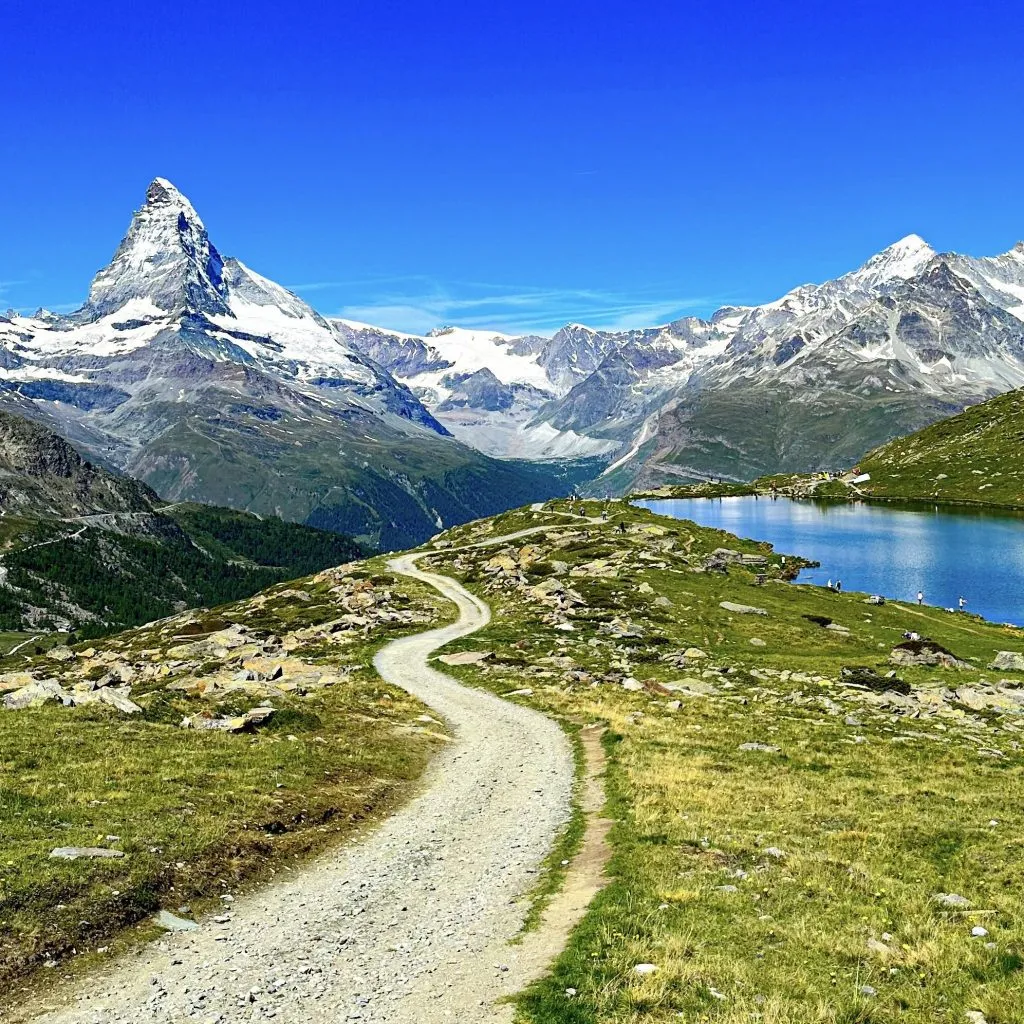 Best Time to Visit Zermatt:
Figuring out the perfect time to hit up Zermatt is like choosing between chocolate cake and chocolate ice cream – they're both awesome, but it really depends on your flavor. So, whether you're chasing wildflowers or chasing winter thrills, here's the scoop on when to plan your Zermatt escapade:
Summer (June to September):
This is Zermatt's "main event" season, like a blockbuster movie premiere. The weather is all like, "Hey, I'm cool, enjoy the sunshine," and the hiking trails are just begging you to come say hello. Get ready to turn into an outdoor enthusiast superhero with hiking, mountain biking, Alpine lakes swims and even paragliding. Oh, and did I mention the jaw-dropping views? Yeah, they're like postcards on steroids. But just a heads-up, it's a bit like a party scene – everyone wants in on the action, so expect some friendly crowds.
Winter (December to February):
Alright, snow bunnies, listen up – winter in Zermatt is like stepping into a snow globe, but with more adrenaline. I'm talking skiing, snowboarding, dogsledding, igloos and winter sports that'll make your heart race faster than a squirrel on caffeine. The village transforms into a twinkling wonderland with lights that scream, "Welcome to Narnia!" If you're all about sipping hot cocoa by a crackling fire, shredding slopes and spa this is the jackpot.
Shoulder Seasons (Spring and Fall):
Imagine Zermatt in spring and fall like your favorite coffee shop on a weekday – chill vibes, no lines. April and May, plus September and October, are like the golden hours of travel. Fewer peeps, wallet-friendly deals, and weather that's as agreeable as a dog in a park. Sure, you might find a few hiking trails playing hard to get with lingering snow in April, and skiing might be on a lunch break in November, but hey, that's the trade-off for feeling like you've got the whole place to yourself.
A list with your MUST attractions & activities to do in Zermatt
Welcome to Zermatt! And Get ready to rock your socks off with a lineup of attractions and activities that'll have you grinning from ear to ear. Let's dive into the Zermatt experience, where I've paired up the ultimate tag teams of fun:
All Aboard The Gornergrat Bahn and Glacier Glory:
Choo-choo lovers, this one's for you! Hop onto the Gornergrat Bahn and let it whisk you away to a cloud, where the Gorner Glacier will make you believe in snow magic. Tip: Elbow your way to the nearest window on the right side of the driving direction! This will secure you constant panoramic view to the glamorous Matterhorn and you can even do one of those well sold Instagramable pictures!

Another thing you might want to be aware of is: Sometimes when you try buying the tickets online they appear as SOLD OUT. But fear now as as your fella local I can reveal to you a major secret: you can always buy them in the SBB website- even few minutes before embarking. You're welcome.

Ah! and before I forget: You can use your ticket to go in and out the mid-stations! So an absolute must id going down at Rotenboden- a short hike from there will take you to marvelous lake: The Riffelsee. On a good day you can even find the Matterhorn reflecting on the water!
Lakes and Laughter – Blauherd to Sunnegga:
Start your day at Blauherd with jaw-dropping vistas that'll make your heart skip a beat. Make sure to take an epic picture with a heart framing the Matterhorn. Then, hop on the mountain cart and ride the wind to Sunnegga – it's like the world's coolest rollercoaster, minus the loop-de-loops. The only down part besides the giggles and fun is the luck of any suspension system that pretty much literally rocked my world.

At Sunnegga, treat yourself to a mountain picnic, Swiss-style. Blankets, cheese, and those "pinch me, I'm here" moments. Don't forget to bring your favorite swimsuit as you can swim in Leisee- an alpine lake within a few min walk from Sunnegga with fantastic Matterhorn view.

Tip for elderly and those that don't feel like walking much: You can skip it all and take the funicular to Sunnegga. There is a FREE of charge shuttle from the funicular directly to the lake where you can enjoy a nice deep and awesome view.
Hike, Lakes, and Alpine Bliss:
Lace up those hiking boots for the 5 Lakes Hike – a trail that'll give you a workout and soul therapy all at once. Marvel at not one, but 5 alpine lakes!! Plus, in Leisee and Grünsee – 2 of the lakes in the list – you can cool off your toes or your whole self if you're feeling adventurous.

The trail duration is 2.5 hours of constant panoramic view and it fits to all fitness levels! I recommend you to book a Kombi Ticket to save a couple of bucks on your adventure.
Pro tip: Pack a swimsuit and a sense of awe. Other hiking routes can be found here.
Klein Matterhorn, Frozen Fantasia – The Ice Palace and Glacier Paradise:
Head to Klein Matterhorn for an icy extravaganza. This is The highest cable car station in Europe (3,883 m)! Here you will find a peak lift takes you up to the 360° viewing platform where you can see an incredible 38 four-thousand-metre peaks and 14 glaciers.

The Glacier Paradise is like a playground for grown-ups. Make sure to dive into the Ice Palace, a jaw-dropping kingdom of ice sculptures and otherworldly beauty. Bring your warmest jacket and your most dramatic "winter is coming" pose for those Insta snaps. No, I'm serious- it's really cold under the glacier even during the skin melting summer days.

Good to know: you can go in and out in each one of the mid-stations! my recommendation to you is to stop at Trockener Steg- there you can walk down to s stunning lake called Theodulgletschersee (wonderful easily pronounced name.)
Another MUST stop in Schwarzsee. Besides the lake, which honestly if you've done the 5 lakes hike you'd find a tad underwhelming is the INCREDIBLE picnic area. There is a breathtaking picnic section with views priceless views, a super cool Zermatt sign and Glacier vistas.
The Gorner Gorge:
The Gorner Gorge is your in between kind of adventure. Located in the edge of the village you can explore it if you've got some spare time between attractions. The view is breathtaking although it cost 5 bucks to enter.
High on Rothorn – Summit Sensations:
Riding to the Rothorn summit is like getting a VIP ticket to cloud nine. The view from the Rothorn (3,103 m) showcases the highest peaks of the Valais Alps. In summer, the Rothorn is the popular starting point for a variety of demanding hikes; in winter, the gateway to beautiful sunny pistes.
Furi Fun – Alpine Adventure Playground:
Guess what, explorers? Furi is your playground for alpine excitement. Furi is at 1,867 m – easily reached by lift or on foot. In the hamlet far above Zermatt, a wide variety of mountain adventures are scheduled: grilling at the Dossen glacier garden. Or checking out the dizzying heights from the suspended bridge. The view 90 m down into the abyss is fascinating.
Back in Time – Matterhorn Museum:
Ready for a trip through time? Say hello to the Matterhorn Museum, your very own DeLorean. Get ready to geek out on mountaineering tales, pioneer stories, and a village that went from "What's up?" to "Hold my cheese fondue." Plus, artifacts that'll make your history teacher jealous.
Snowy Showdown – Skiing and Snow Activities:
For all the Winter warriors, winter is your time to shine! Zermatt isn't just a pretty face; it's a winter wonderland waiting for you to conquer. Ski down powdery slopes, snowboard like a boss, and build snowmen that are basically sculptures. Top it off with après-ski vibes and a cup of hot cocoa that'll warm your frosty heart.
Last but not least- Fondue and Raclette feast:
You just cannot visit Zermatt without enjoying the Swiss cheese delicacies! One of my favorite places to eat an authentic Swiss meal is The Cheese Factory– where you can get them traditional vibes, authentic food and cheese from the region.
Where to stay in Zermatt:
Ideally you want to stay inside the village to be able to reach all the awesome attractions within walking distance. Here are some places I can recommend:
Schweizerhof Zermatt – Where Cozy Meets Cool:
Imagine a place where classic Swiss charm cozies up with modern coolness – that's Schweizerhof Zermatt. This spot is like a warm hug from your grandma combined with the quality and modern amenities. You've got top-notch comfort, jaw-dropping views (hello, Matterhorn!), and a spa that'll melt your stress faster than you can say "fondue." And did I mention the wine selection? Let's just say, your taste buds will have a party.

Mont Cervin Palace – Royal Treatment, Matterhorn Style:
Picture this: a palace that's so majestic, even the Matterhorn tips its hat. Mont Cervin Palace is like stepping into a fairy tale, with luxury that'll make you feel like a VIP. From the moment you step in, you're treated to a symphony of elegance, with a dash of "I'm on vacation, baby!". You've got cozy rooms, stunning gardens, and a wellness area that'll turn any stress into a distant memory. Oh, and if you're a foodie, get ready for a culinary journey that's fit for royalty.

Monta Rosa Zermatt – Where Tradition and Trend Collide:
Ever dreamed of a place where old-world charm dances hand in hand with modern vibes? Monta Rosa Zermatt is your ticket. It's like that perfect mixtape of comfort and style. You're welcomed with open arms into a world of rustic elegance, comfy beds that practically beg you to snooze. As well as dining experience that'll have your taste buds singing "Hallelujah!" And guess what? The location is basically your window to the Matterhorn's daily show.

Promo Code & Discount:
If you're looking for other options: I've got you sorted with a discount code as AtHotel. It's is an awesome hotel booking platform where you can book different hotels with great discounts that cannot be find anywhere. Discounts rates vary from 20%- 70% off your stay and the reason they can offer such discount is because they send it to you by a link instead of posting them on a front of a website. With my code: Jas25 – you can get an additional 25 bucks on your order!
What's the perfect vacation duration in Zermatt?
The typical duration of a stay in Zermatt can vary based on your interests and the activities you want to do. Here's a general guideline:
Short Getaway (2-3 Days): If you're limited on time, a short 2-3 day trip can give you a taste of Zermatt's highlights. You could explore the village. Take the Gornergrat Railway for stunning views, and perhaps engage in one major activity like hiking, skiing, or snowboarding.
Ideal Stay (4-5 Days): A 4-5 day stay allows you to fully immerse yourself in the Zermatt experience. You can explore the Matterhorn, take the Gornergrat Railway, indulge in outdoor activities. And even have time for a bit of relaxation and leisurely strolls.
Extended Visit (1 Week or More): If you're an avid adventurer or simply want to take your time and soak in the beauty of the region, spending a week or more in Zermatt is a fantastic idea. You'll have the opportunity to explore multiple hiking trails, engage in various sports, and truly connect with the local culture.
Remember, these are just general recommendations, and the duration of your stay can be tailored to your preferences. Zermatt has something to offer year-round! So whether you're visiting for a quick escape or a longer vacation, you're sure to have an unforgettable experience!
So there you have it, fellow wanderlusters! Zermatt isn't just about the Matterhorn – it's about embracing breathtaking views and indulging in comfort in some seriously stunning spots. Whether you're craving cozy, luxury, or that perfect blend of tradition and trend, these accommodations are ready to make your Zermatt stay as unforgettable as your adventures. So book your room, kick off your hiking boots, and let the relaxation begin!