One of the most popular places to visit here in Switzerland is Lauterbrunnen. I'm serious- Literally every time you google the word "Switzerland" You find Lauterbrunnen in the first pictures that come up. And not for no reason:
Located in the heart of the Bernese Oberland, it's a magical valley where Mother Earth has unleashed her creativity. Picture a canvas of towering peaks and lush meadows, adorned with 72 waterfalls that dance and glisten under the Alpine sun. The air is a symphony of tumbling water and fresh mountain breeze, an ode to the beauty of untouched landscapes.
This area, along with Interlaken is what tourist imagine when they think about Switzerland therefore if you're coming to Switzerland for the first time I highly suggest putting it on your Bucket List.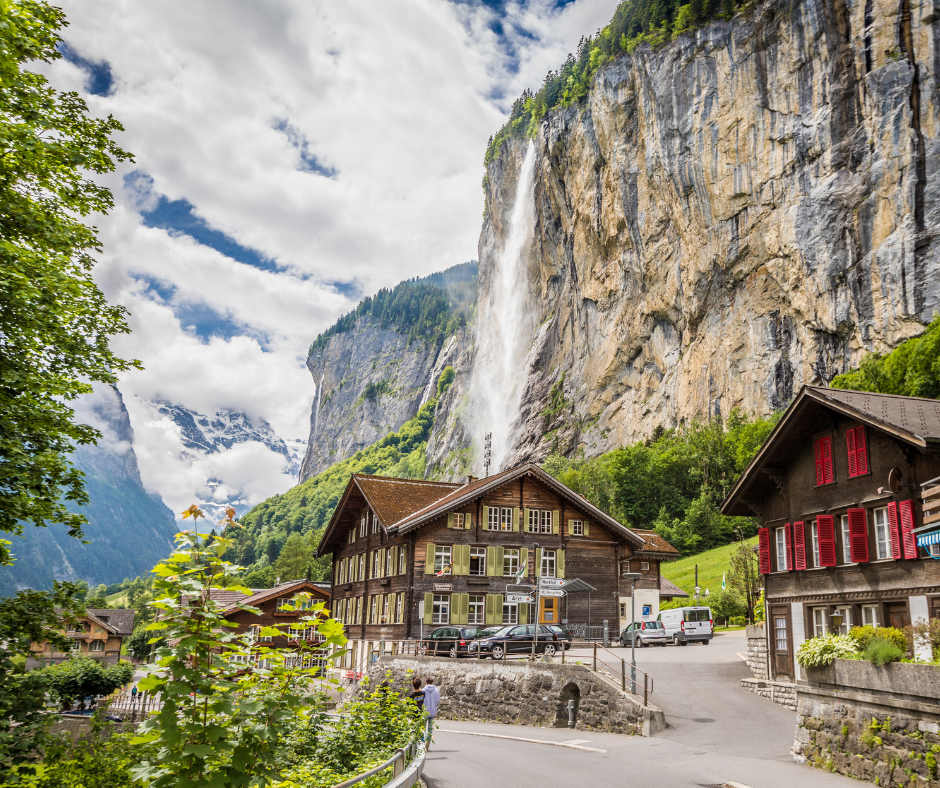 So, How to get to Lauterbrunnen:
By train, Lauterbrunnen is approximately 2.5 hours from Zurich and 3 hours from Geneva. The journey itself is a visual feast, with breathtaking views of the Swiss countryside. If you're up for a road trip, it takes around 2.5 hours from Zurich and 2.75 hours from Geneva by car.
It's also possible to come for a DAY TRIP! I've done it multiply times and if you don't mind sitting in the train and enjoying the scenery you can definitely come and explore without spending on accommodations.
When to Visit and How Long to Stay:
The question isn't whether to visit Lauterbrunnen, but when. So let's get down to details:
Summer (June to August) is ideal for outdoor enthusiasts, with hiking and paragliding in full swing. Autumn (September to November) paints the valley in warm hues, a photographer's paradise. Winter (December to February) transforms Lauterbrunnen into a snow-draped wonderland, perfect for skiing and snowboarding. Spring (March to May) sees the valley come alive with wildflowers.
Plan to stay for at least 3 to 4 days to fully immerse yourself in the magic.
Discount and Promo Codes for your Stay:
If you're looking for accommodation in the area, I happen to have a discount code for you at AtHotel. It's is an awesome hotel booking platform where you can book different hotels with great discounts that cannot be find anywhere. Discounts rates vary from 20%- 70% off your stay and the reason they can offer such discount is because they send it to you by a link instead of posting them on a front of a website. With my code: Jas25 – you can get an additional 25 bucks on your order!
Suggested Itinerary:
Day 1: Exploring Lauterbrunnen and Staubbach Falls:
Begin your journey by strolling through Lauterbrunnen's charming streets. Grab a coffee at a local café and savor the Swiss delights. Then, hike to Staubbach Falls, where mist kisses your skin as you marvel at the majestic cascade. There is a path where you can get closer to the mighty waterfalls- It's a bit steep but you can get a nice overview on the village.
Tip: make sure to bring comfortable shoes (preferably hiking shoes if you've got).
Day 2: Jungfraujoch – Top of Europe:
Embark on a once-in-a-lifetime adventure to Jungfraujoch. Hop on a cogwheel train to reach the "Top of Europe". Explore the Ice Palace, soak in panoramic views, and let the crisp Alpine air invigorate your senses.
Tip: There is a new Morning Pass that you can purchase online which gives you a pretty huge discount from the exaggerated initial price so I really recommend you check it out.
Day 3: Wengen and Grindelwald Excursion:
Venture to the alpine village of Wengen, a serene paradise. Indulge in local cuisine and soak in the tranquil atmosphere. Later, head to Grindelwald for thrilling activities like paragliding and ziplining.
Tip: When visiting Grindelwald head to Grindelwald First to do the Thrill Cliff Walk. If you end up going to Grindelwald First I suggest you do that first thing in the morning to avoid the crowd. You can purchase your cable car ticket online to skip the queue and the Cliff walk is FREE. Once you're up there you can do it as many times as you want. Later- you can visit Wengen.
Day 4: Trümmelbach Falls and Swiss Delights:
Discover the hidden treasure of Trümmelbach Falls – waterfalls carved inside a mountain. A stunning series of ten glacier-fed waterfalls inside the mountain made accessible by the tunnel lift, stairs, and illumination. Also, Make sure to take a picture with Shelock.
Whether you're an adventurer, a hiker, or simply looking to relax in the nature. This area is the place for you with a symphony of waterfalls, a love letter to the mountains, and an invitation to explore the wonders of the Bernese Alps. So pack your curiosity, your camera, and your sense of wonder – Lauterbrunnen awaits!