Geneva is a fun place to be at- all year round. That is if you know where to go and what there is to do! So I gathered here for you a bunch of super fun things to do. Some are seasonal and unique and some are more known. Feel free to let me know in the comments which one of them do you like and if you have any suggestions!
Visit one of the animal parks!
There are really cute animal parks in Geneva, one is Bois de la Bâtie which is completely free of charge to visit.
The other one is the BioParc Geneve that is Free for the first visit and then you can become a member of the association, and they have lemures. Lemures! so it's totally worth it. In the BioParc you can also do a (paid) feeding session in which you can literally FEED the lemures and they can jump happily on your head. Absolutely adorable.
Another place is the Vivarium de Meyrin– I haven't been there yet but it looks pretty cool.
Go to an outdoor spa!
There is a new popup in Geneva it's called La Banquise. It's an incredible outdoor spa with direct view to the iconic Jet d'Eau! You heard me! and that's not about it! the entrance fee is only 10 CHF for an hour of usage in the facilities. Where you have a yurt as a relaxation area, two wooden dry saunas, complimentary tea and icy buckets if you're interested in a plunge.
This popup is only going to be here till the 26th of March so by all means- don't miss it!
In addition, There is a funny Nordic style sport zone with axe throwing and some other fun stuff. On Fridays and Saturdays there is musical entertainment from 18:30-22:00
Visit Halle de Rive- Geneva's food market!
Halle de Rive is undoubtedly the place to visit if you're a foodie. It's a large indoors market here in Geneva where you can find all types of local products from small producers. In addition to cooked meals or ready food you also have snacks from different cultures, huge Swiss cheese variety from the alpine pastures, baked foods, fish, meat, flowers, wine and even homemade pastas.
The prices fit all range of budgets so you can go out there and explore! Plus, they even have a delivery service where you can order online if you prefer.
Go to a macarons workshop!
There is a super fun macarons workshop here in Geneva at C Si Simple where you can learn how to unlock the secrets of this mysterious and divine cookie.
They also offer other types of workshops like flowers arrangements, baking cupcakes, sewing and more. I'm just a huge fan of macarons so that was my obvious choice. Later I got to take my macaroons home and since it was a sunny beautiful day I did a macarons picnic by the lake.
Explore the Botanical Gardens!
The botanical gardens are an excellent place to explore during winter!
Here is an example for a fun day: you can take a nice walk by the lake to the gardens. After exploring the Gardens you can visit the iconic broken chair and even have a guided tour at the UN. Afterwards you can walk back to the lake and perhaps take a Mouette to the other side of the lake and enjoy a stroll by the Jet d'Eau.
Make your own chocolates!
Yes, That's right! There is a super cool workshop at La Bonbonnière where you can create your own chocolate. It's a fun and delicious activity. Plus the two chocolatiers at La Bonbonnière are absolutely hilarious so I'm sure that you'll have a great time.
Once your creation is done you can take it home or eat most of it on the way like I did.
Visit a museum!
There are many great museums here in Geneva and many of them are free! in some you only need to pay for the temporary exhibition if you want to.
My favorites are: the Natural History Museum– which is BTW the largest natural history museum in Switzerland! the MEG– which is really cool and you can learn there about human cultures from 5 different continents. And Ariana museum which is quite nice but to be honest I mainly like it for the architecture but if you are ceramics fan you'll flip from the collection for sure.
Go for an afternoon tea!
Its such a nice and spoiling activity to do here in Geneva! Here are some of my favorite addresses:
Parisserie– They have incredibly delicious pastries to go with your tea that make you feel like the queen of England. There are two shops in Geneva, the one in Rove is hidden inside the Fnac store and is super cozy.
Pâtisserie Sofia– another amazing address with wonderful pastries and croissants to die for made by the brilliant chef Costa.
Ladurée – for the stylish atmosphere and delicious macaroons (BTW did you know that all of Ladurée 's macaroons are made here in Switzerland- in Fribourg?? I'm not joking!)
Explore Carouge!
Carouge is such a magical place to explore here in Geneva. If has an Italian charm due to its history and you can find here many little boutique shops and colorful streets! You can enter the Mairie's office and get yourself a map to explore the area- this will lead you to some of the secret gardens that Carouge hides behind those pretty facades.
This is the place to enjoy the local ambience in one of the many charming bars & Cafes. Also, on Wednesdays, Thursdays and Saturdays you can find locals markets.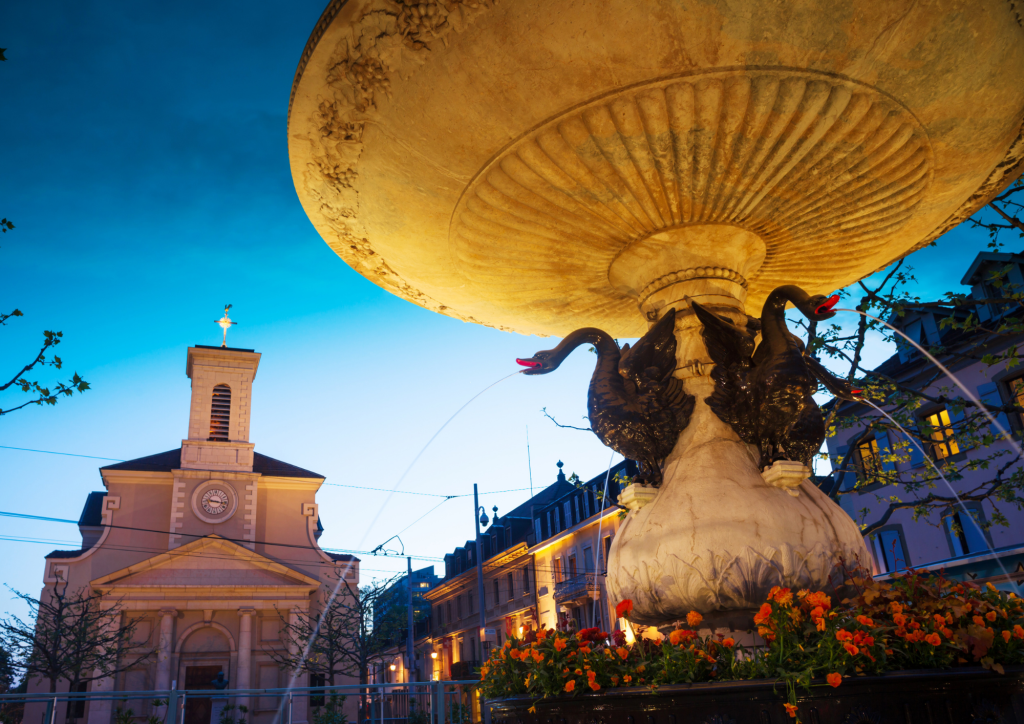 Dinning in the Dark!
There is a brand new Dine in the Dark experience in Geneva it's called Dans le Noir. Where you can enjoy an atypical experience of eating delicious food in PITCH darkness! you'll be guided into the room by visually impaired waiters who will guide you through the experience and trust me you wont even be able to see your own hand!
The idea behind it is not only you can have your other senses intrigued by the lack of sight but it also give you a different appreciation to your senses and you know what they say: Things taste better in the dark.
Another cool feature is that the dishes served are a secret and they change every 3 months. Your goal is to guess what was served during the meal but after that they will show it to you and you can compare if your guesses were accurate!
Hope you liked these recommendations! Feel free to let me know if there is something else that I forgot to add to the list and have fun!