December is such a magical month here in Switzerland. There is so much to see and experience in the holiday seasons! Along with a cozy atmosphere and a smell of mulled wine and cinnamon in the air. So as usual, I will gather for you here all the must seen places and events in Switzerland so you won't miss any of the fun.
1st of December
Christmas Markets in Zurich: First things first, Zurich is the place to be in the holiday season. It is home to several Christmas markets and incredible Christmas activities. Unquestionably, it is one of the most beautiful cities to visit in Switzerland- and you'll find in these links a summery of everything you need to see and know!
Christmas market in Bremgarten: When: From the 01.12-04.12. With over 320 different stalls, this Christmas market is one of the largest and most attractive in Switzerland. In addition, you can enjoy free concerts, from pan flute to harp and even a gospel choir. You can take a seat at the white carriage and have a romantic ride and for children there is a petting zoo, pony rides and even a pretzel castle.
Christmas markets in Lucerne: The stunning alpine town is hosting several Christmas markets! Therefore, in this link you can find them all! Also, If you're already in the area I warmly recommend you to visit: the Transport museum, the cute bakery Bachman, The City Walls and the Lion monument. For mountain getaways you have the impressive Mount Pilatus nearby and the Queen of the mountains: Rigi.
Light Festival in Lausanne: You may have heard about this beautiful festival happening in Lausanne from the 01.12-24.12. This time due to the current situation it will happen in a reduced version but you can still find it on the façades of 3 iconic buildings.
Christmas Market in Lugano: The charming little town in Ticino invites you to the delightful Christmas market. When: from the 01.12 till the 24.12. Along with delicious food stalls between Piazza della Riforma and Piazza Manzoni, music entertainment and kids activities.
Christmas market in Rapperswil-Jona: On the 01.12-18.12 the beautiful lake promenade in Rapperswil will transform into a magical Christmas world from Thursday to Sunday.
Christmas Market in Biel: Biel welcomes you to stroll between different stalls with yummy food, little fire place, mulled wine and gifts. The market takes place from the 01.12 till the 24.12. (the website is only in German or French but you can translate it).
Christmas Market in Stein am Rhein: The little fairy tale town turns into a Christmas wonderland throughout the entire month of December. The website is unfortunately in German- Therefore I'll write here all the details.
Opening times: On Mondays and Tuesdays the market is closed. However, on Wednesdays to Fridays it opens from 14:00-20:00, Saturday 11:00-20:00 and Sunday 11:00-19:00.
2nd of December
St. Nicholas Celebration in Fribourg: The celebration will take place on the 02.12-03.12. Even though the main event happens on the 03.12 with the St. Nicholas Parade starting at 17:00. It is important to mention that Both of the days are going to be filled with fun activities. Namely a craft market, a Soup Chalet, petting sheeps and goats, puppets theatre and donkey rides! Therefore I'd highly recommend you to come earlier.
Wine Tasting in Lugano: Ticinowine invites you to taste the wide range of the local wine! The event takes place at Villa Ciani in Lugano from the 2.12-4.12. Price for the tasting glass: online 20 CHF, on the other hand, at the entrance it costs 25 CHF. Plus, fun tip: If you buy 6 bottles you can get the tasting glass money back.
The website is unfortunately in Italian but you can right click and translate it.
Bern Christmas markets: As you may already know, Bern is indeed a marvelous town to visit in Christmas times. Not only that it has several Christmas market but also other festive attractions. Such as: Skating ring at the Parliament Square, Fondue fun and Christmas stroll. Plus, There is even a possibility to visit the famous Zytglogge (Clock Tower) inside! Therefore, in these links you will find everything.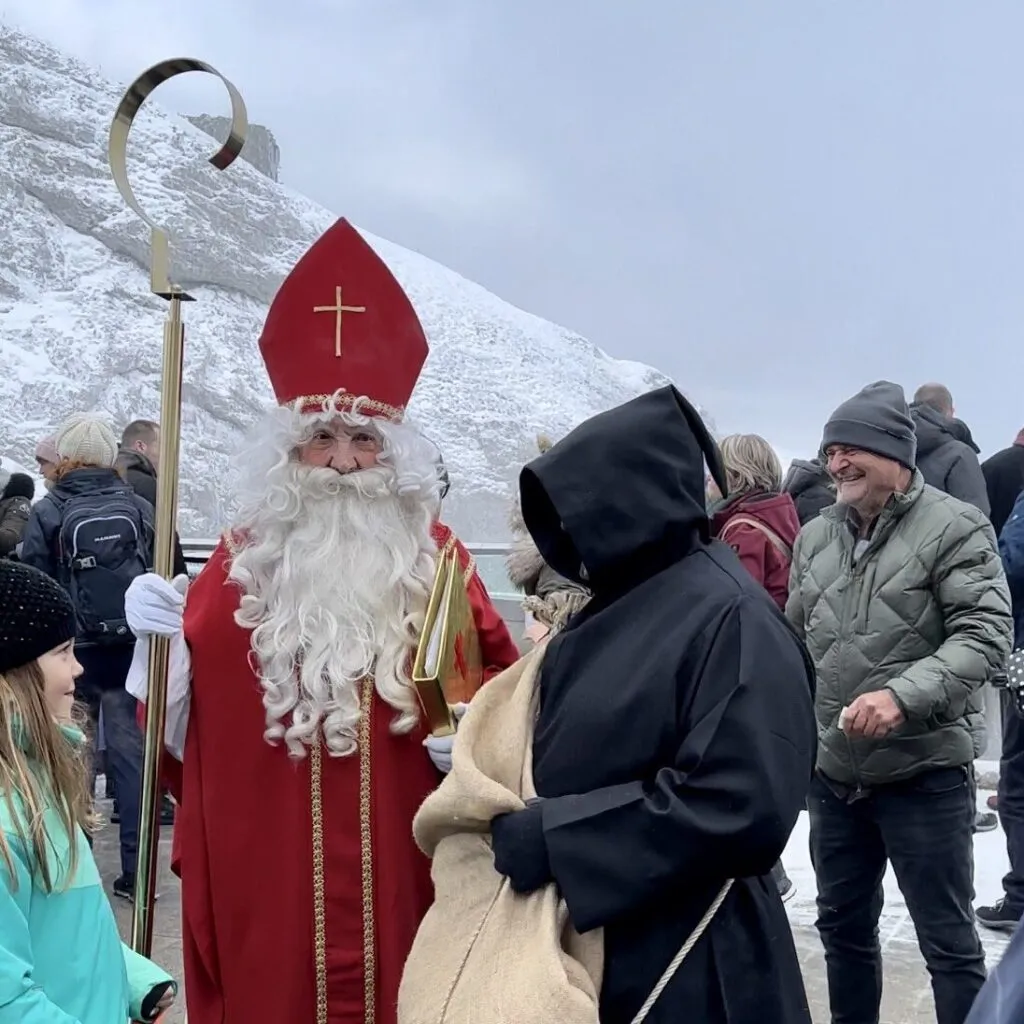 Roller Disco in Zurich: Here is a vintage fun: a Roller Skates Party with songs from the 80's and the 90's. Best part, You don't need to have your own roller skates- as You can simply rent them on place! Good to know: If you just want to enjoy the ambience the 2nd floor is for dancing without the rollers. Price: 25.90 CHF including rollers, 20.80 CHF if you don't need rollers. Wheelchair accessible.
Samichlaus Procession in Sachseln: Time for some Swiss tradition! The procession starts at 19:00. Santa Claus is coming to town, wearing a red coat and hood. Furthermore, He's accompanied by a spooky sidekick called the Schmutzlis with their dark clothes, carrying their whips. Route: Bahnhofplatz – Pilatusstrasse – Dorfplatz – Dorfstrasse.
Christmas market in Willisau: The colorful old town of Willisau holds a cute little Christmas market from the 2.12-4.12. Including festive stalls and music entertainment.
Bier degustation in Bern: When you think about Bern you think about Beer! The event takes place from the 2.12-3.12. This is the perfect opportunity to Taste many trendy and new (craft) beers with friends and experience the regional beer culture. Not to mention, to find out more about local and regional breweries from the canton of Bern and area. On the plan: 22 breweries, culinary delicacies, DJ and watching the World Cup.
Price for the tasting glass: 19 CHF per day or 30 CHF for 2 days.
Samichlaus in Melchtal: The traditional procession will take place at 19:30. Route: Sägerei – Widderhuis. Important to mention that this is a rather smaller one which is recommended only if you're in the area.
Wine Fair in Solothurn: This is a call for the wine lovers in the area! The Wyfäscht is a wine fair in Solothurn is happening on the 2.12-4.12. Here you can try different wines and enjoy music entertainment. Tasting Glass cost: 15 CHF. The website is only in German but you can use google to translate it.
Christmas Market in Wildegg Castle: Time to visit a castle! The castle in Aargau welcomes you to a festive holiday atmosphere. Indeed here you can enjoy fun activities like: torch guided tours, workshops and even an orchestra. Dates: 2.12-4.12, Entrance fee: Free.
Christmas Market in Glarus: Including winter delicacies, charming little shops and kids attractions.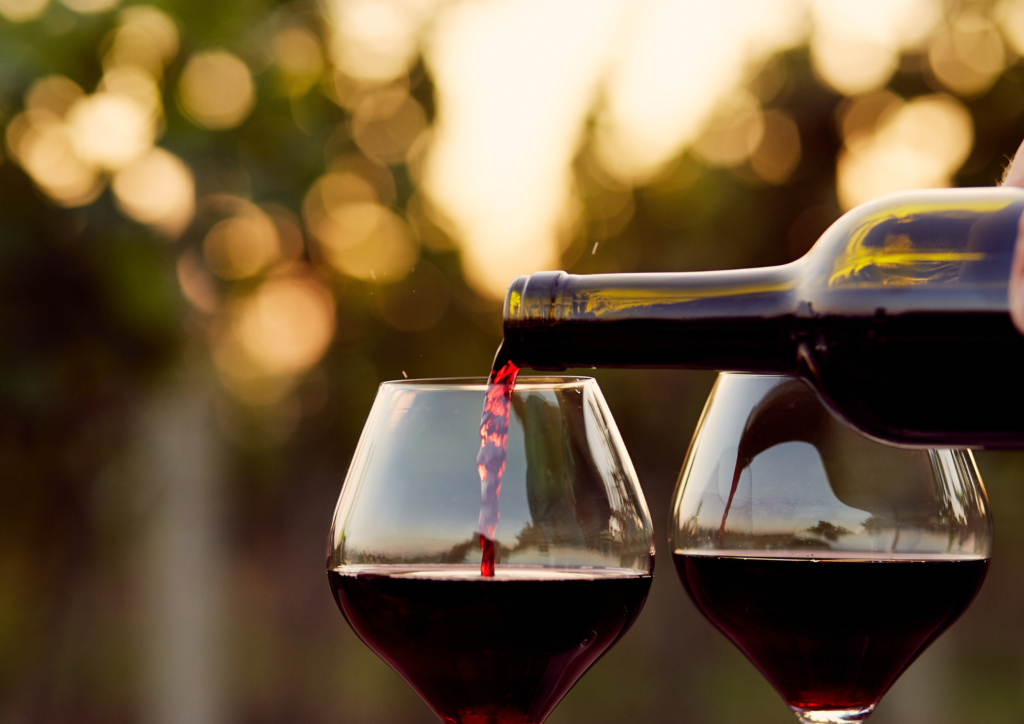 3rd of December
St. Nicholas in Gruyères: This event is mainly for families but since we are talking about Gruyères it's still beautiful whether you have kids or not. The St. Nicholas Parade will start at 16:45 but during the day you will have fun activities such as gifts hunting, Bingo for kids and little farm animals. Afterwards, I'd warmly recommend you to enjoy a hot fondue at the Fondue capital.
The Marmite Race in Geneva: Now this one fits me as well! A non-competitive funny race, where having fun in moving is the most important. Therefore, there are no rankings or rewards but you should put on your best costume! Departing from: Rue de la Croix-Rouge, arrive: Parc des Bastions.
Santa Parade in Weggis: The traditional Klausumzug in Weggis starts at 20:15. Route: Albana – Munisekel – Central – Dorfplatz. Weggis is one of those fairytale villages on Lake Lucerne and you can reach it by boat! However, It is very important to mention that the public transport is not very frequent and if you don't come by car you might need to spend the night with this breathtaking view.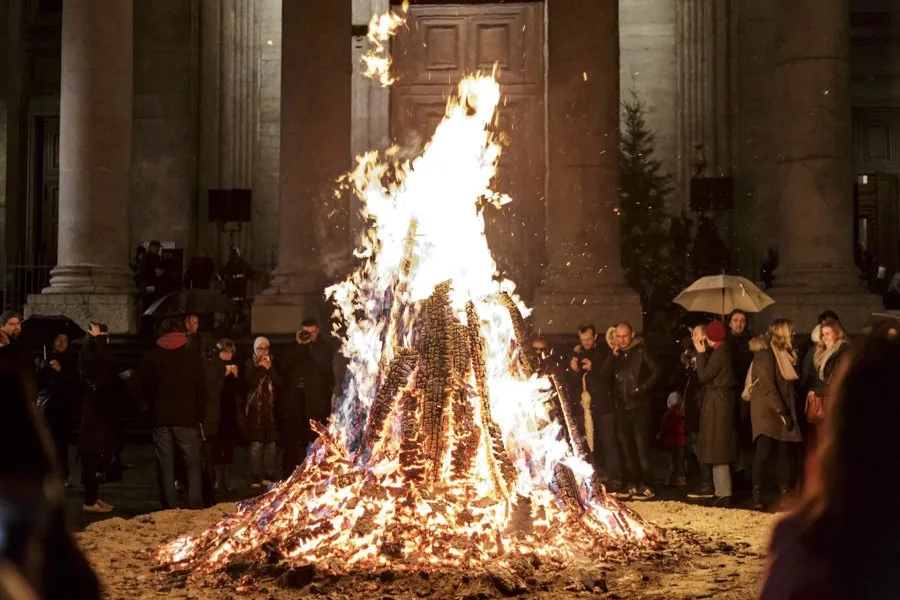 The Honky Tonk Festival in Thun: This one is funny: A Pub Festival in Thun with 16 different pubs each host a concert from 16 different live bands. Undoubtedly, a cool experience! Each concert last 45 min and you will have 15 min to reach from one pub to another. Altogether you will be able to enjoy 4 different concerts. Price: 28 CHF.
Village festival in Klosters: The little village of Klosters invites you to a winter festival with mulled wine and food stands starting at 15:00. Along with a parade of Samichlaus and Schmutzli starting around 16:30.
Sled dogs meeting in Arosa: from the 3.12-4.12, between 30-40 with all Nordic dog breeds and hounds.
Procession of St. Nicholas in Estavayer-le-Lac: Departure at 18:45 from the Casino, direction rue de l'Hôtel de Ville and arrival at the place de l'Eglise.
Harley Niggi-Näggi in Basel: Every year at the Harley Niggi-Näggi, several dozen costumed "Santichläus" (Santas) ride through downtown Basel on their lovingly decorated moto-bikes. The parade begins at 17:00 at the Messeplatz and then continues via the Mittlere Rheinbrücke, Schifflände, Petersgraben, Barfüsserplatz, Freie-Strasse and Spalenberg to the Marktplatz.
Santa Claus Parade in Rapperswil Jona: Starting at 17:30 on the Hauptplatz.
Christmas Market in Appenzell: Little Christmas market from the 3.12-4.12 in the charming town of Appenzell. When in the area I highly suggest you to visit the Chocolate Factory Munz and the famous Cheese Diary.
Christmas Market in Herisau: Taking place from the 3.12-4.12 with mulled wine, culinary delights and Christmas music. Good to know: Herisau is super closed to Appenzell and all the activities above can be combines!
4th of December
Samichlaus Parade in Lungern: The procession will start at 14:00 from the old church tower. If the weather is nice I recommend you to come earlier and enjoy the beautiful walk by the lake.
Saint-Nicolas in Bulle: The Torchlight procession will start at 17:15. Expert tip: You can spend the day in the area visiting the Chocolate factory Cailler, Which was the first EVER chocolate factory in Switzerland!
Foire au Lard in Martigny: Between the 4.12-5.12 you will find a meat lovers fair in Martigny. What's more to expect? Music entertainment and even the beloved traditional alphorns.
5th of December
Santa Parade in Glarus: The parade will start at 18:15 but I suggest to come already at 18:00.
Samichlaus Parade in Küssnacht: Now this is the biggest Santa Claus parade in Switzerland and definitely worth visiting! Unlike other parades that happen in the smaller towns, this one attracts around 20,000 spectators. The parade will start at 20:15 in the Village's center. Tip: You can spend the day Lucerne and come in the evening by train.
Cheese making & Dinner in Leukerbad: This is for all cheese lovers out there- Starting from the 5th of December till May! a cheese making experience and 3 course dinner. Price: 43 CHF per person, 27 CHF for children under 15 years old.
6th of December
Samichlaus Procession in Sarnen: Starting at 19:30, Route: school– Hotel Krone – Lindenstrasse – station – Dorfplatz.
St. Nicholas Parade in Avenches: The little town host a Santa Claus Parade from the Collège Sous-Ville at 18:30. Tip: When in the area you should check Switzerland's best preserved amphitheater!
Samichläuse in Bad Ragaz: A parade of 40 Santas and Schmutzlis in Bad Ragaz will start at 18:00 from the Föhrenwäldli through the Bad Ragaz village to the Dorfbad.
Night Sledding in Samnaun: Certainly a fun winter activity! First, you hike to the forest hut (approx. 45 minutes) where you will find native songs and hot drinks and then you can go back to the valley by sledge. Starting at 20:15, Activity duration: 2 hours, Price: Adults 5 CHF, kids 3 CHF.
Santa Claus in Grindelwald: This event is mainly aimed for children starting at 17:00 at the congress hall. Certainly a cute family activity to do if you're in the area and want to get your kids into a Christmassy mood.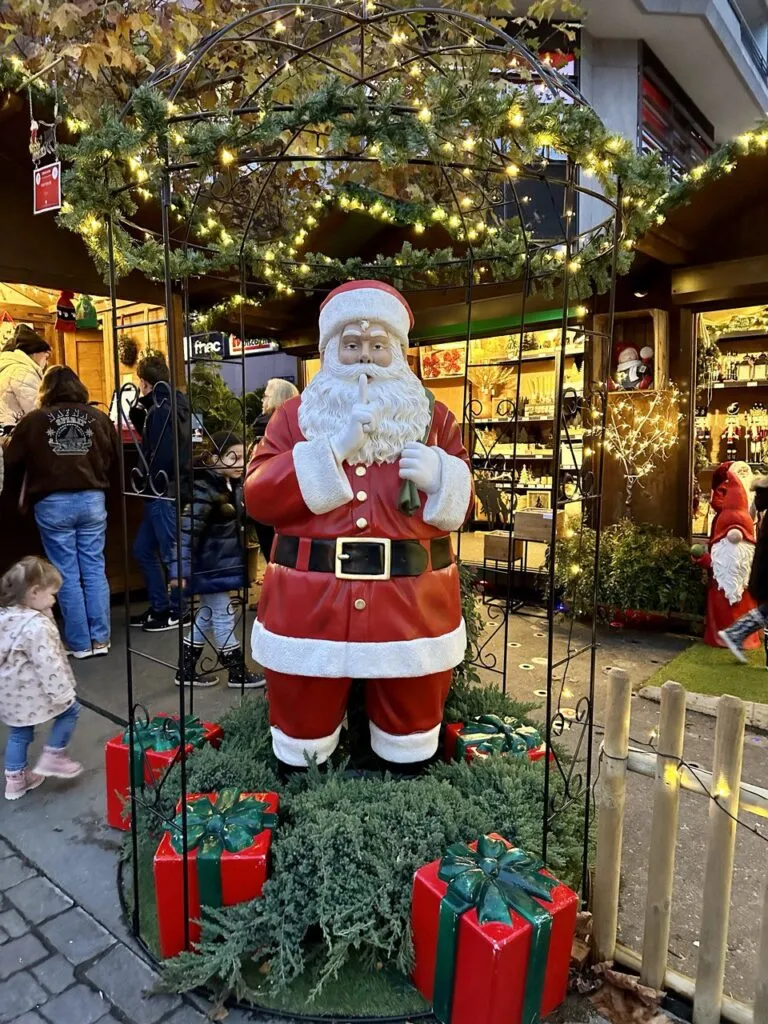 7th of December
Christmas Market in Solothurn: The traditional Christmas market in Solothurn welcomes you to explore its around 70 Stalls from the 7.12-8.12 at 12:00-21:00 o'clock.
St. Nicholas Procession in Stalden: The procession will start at 20:00. Route: school – village – Landgasthof Rössli.
Christmas Market in Bulle: Experience the magic of Christmas in Bulle from the 7.12-11.12 with 95 little chalets where you can enjoy delicious foods, gifts shopping and mulled wine. Tip: Can be combines with a visit at the chocolate factory Cailler or the medieval town of Gruyères.
Christmas Market in Thun: Thun invites you from the 7.12-23.12 to explore its Christmas Market. With its decorated wooden huts with regional specialties, spices, Christmas decorations, jewelry and candles. Surely sport lovers would love to know this fun addition: There is an ice-curling on the Mühleplatz. Tip: Thun is only 20 min Train ride from Bern and has a magical little old town.
8th of December
Christmas Market in Locarno: From 10:00-23:00 Locarno invites you to stroll between the Christmassy stands for some mulled wine, hot chestnuts and gingerbreads. Expert tip: Feel free to visit one of the nearby castles or the famous Verzasca Dam.
Swiss whiskey Festival in Baden: The oldest whiskey fair in Switzerland happens from the 8.12-10.12 in Trafohalle in Baden. Clearly, this is the place to be for whiskey fans as you will find here are 1000 different kinds! The entrance fee is 18 CHF and The tasting glass costs an additional 2 CHF. Alternatively, you can come in a Kilt and the entrance is free.
Christmas Market in Nyon: The little town on the Lake host a cute little Christmas market from the 8.12-24.12 with a 6 meter tree, Delicious stalls and festive music.
9th of December
The Fête de l'Escalade in Geneva: The craziest traditional event in Geneva is back from the 9.12-11.12! Unquestionably, this is THE time to visit Geneva. What to expect: Amazing parades, demonstrations, music, cannon fire, loads of chocolate(from the traditional chocolate pot that you see in the picture), vegetable soup, and mulled wine.
Expert tip: The secret passage "Passage De Monetier" which is closed all year is open only during these 2 days to the public!
Christmas Market Murten: During three days from the 9.12-11.12 you can immerse yourself in the Christmas magic in the medieval town of Murten. More than 100 stalls offer visitors specialties, tastings and Christmas gifts. Expert tip: You can visit the beautiful city walls and get a higher glimpse to the town.
Christmas Market in Payerne: For six days, from the 9.12-19.12 the town of Payerne is transformed into a magical setting. Apart of the twinkling decorations, you can also enjoy the musical entertainment in the canteen.
Christmas Market in Gruyères: The Christmas fairytale settles in Gruyères on the 9.12-11.12 and 16.12-18.12. In an intimate and warm setting, discover the 40 different artisans who take part every weekend! Tip: you can combine it with a visit at the castle or the cheese factory and even go crazy and have a drink at the HR Giger café.
Christmas Market in Neuchatel: Despite of its little size the Christmas market if Neuchatel will be located by the beautiful lake from the 9.12-23.12. I highly recommend you to visit if you're already in the area.
Christmas Market in Martigny: After 2 years of absence the Christmas market in Martigny is back from the 9.12-23.12 and welcomes you to a warm atmosphere.
10th of December
Winterylüte in Adelboden: The traditional Swiss bells are coming to Adelboden in a beautiful winter ambience.
The race in La Chaux-de-Fonds: 15.2 km trail linking Le Locle and La Chaux-de-Fonds in running and Nordic Walking Urban Corrida with routes from 400m to 7.5km. Undoubtedly, The Highlight is The mythical 800m race with hundreds of Santa Clauses Musical animations on all routes. While the event takes place from 12:00-22:00, Spectators can enjoy the music and live shows.
Winter Magic in Blausee: The 9th edition of the Christmas market in Blausee is back from the 10.12-11.12. Especially magical with a visit from Santa Claus and his Reindeers.
Christmas Run in Estavayer-le-Lac: Every year, Estavayer-le-Lac gets into the Christmas spirit with a novelty race through the medieval old town: fun, laughter, silly costumes and, of course, a show of sporting prowess awaits.
11th of December
Silvesterlauf in Zurich: Definitely the biggest public sporting event is Zurich with different categories of races. You can either come to run or to cheer the runners! Tip: Combine it with one of the other Christmassy activities above!
13th of December
Guided Village Tour in Zermatt: Zermatt is, without a doubt, one of the most stunning villages in Switzerland. But how well do you know it? From the 13.12-18.12 you will find guided visits in Zermatt telling you all its secrets for only 10 CHF! There is no way I'm going to miss this one.
15th of December
Swiss Ice Hockey games in Fribourg: If you're an ice hocket fan, this one is for you: Tickets for the home games of the Swiss national ice hockey teams are available at Ticketmaster.CH.
Magic Winter Circus in Biel: Sparkling lights, the smell of gingerbread and mulled wine, it's Christmas time in Biel. But this year it will be even more magical, because the MAGIC WINTER CIRCUS pitches its tents on the Neumarktplatz from the 15.12-31.12.
16th of December
Christmas Market in Frauenfeld: Unquestionably this is the largest Christmas market in Eastern Switzerland. Happening from the 16.12-18.12 with over 120 stands and around 200 specialist shops. It should be noted that the highlight is definitely the 3 kings coming on their camels! The parade will take place on Friday at 14:00 and Saturday at 11:00.
Christmas Market in Davos: Magical winter atmosphere from the 16.12-17.12 with Christmas lil stalls and culinary delights at Seehofseeli.
Track Cycling Challenge in Grenchen: On December 16th and 17th, the Tissot Velodrome will present a track cycling event with races in the highest category UCI-C1.
Prado Luxury Night in Crans Montana: Besides the fun Animation in the Rue du Prado, and the point that Crans Montana is simply stunning, if some snow will pile up you could even sled in the street!
17th of December
Techno-Festival in Andermatt: The first edition of the VERVE Techno- Festival Winter Edition will take place in Andermatt on December 17th, From 11:00-23:00, a total of 11 acts will rock the dance floor.
Ice disco Xmas Edition in Zurich: Christmas-Edition of the ice disco with a Christmas tree, mulled wine and fondue.
Mulled Wine Festival in Wengen: Hands down, mulled wine is the best way to celebrate winter and Wengen decided to make a festival dedicated to this heart warming beverage. Apart from trying different mulled wines there will be music entertainment.
Cross country world cup in Davos: The international cross-country skiing elite will again line up at the starting line in Davos, when the Bünda area in Davos Dorf becomes a cross-country skiing stadium.
18th of December
Christmas race in Ascona: The traditional "Corsa da Natal" or Christmas race, takes place along both the Borgo lanes and the lakeside promenade of Ascona. Along with a competition for both experts and amateurs as it presents different itineraries and lengths: from the 300m for the youngest ones to the 6km for the experts.
Christmas Run in Lausanne: This funny and festive running event features categories for all ages and fitness levels. In addition to musical entertainment will keep you in the Christmas spirit.
24st of December
Torchlight hike in the Oeschiwald: Torchlight hike under the clear starry sky with mulled wine or apple punch stop included.
25th of December
Santa's torch descend in Veysonnaz: Merry Christmas everyone! How about a torchlight descent down the Mayen run with the Swiss Ski School and Father Xmas? Meet at the end of the day at the top station of the gondola lifts. Additionally, a torchlight parade, mulled wine and Christmas tea are on the plan.
Christmas in the forest in Wengen: Meeting at the Eigerhubel and walking together to Flühlenboden where you can sing Christmas songs by the fire.
Trychel Week in Meiringen: At the end of each year Meiringen celebrates an ancient custom: Trychel Week and the Ubersitz. During these days the villagers use masks, bells and giant Trycheln cow-bells to cast out haunting spirits.
26th of December
Boxing Day in Bern: International professional boxing on St. Stephen's Day in Bern.
Ice hockey tournament in Davos: During the last six days of the year, Davos is the top address for European ice hockey.
27th of December
Witches Christmas in Blatten: As some of you may know, this area is known for its history with witches! The perfect atmosphere for some invited to the torchlight walk, the witches' dance around the fire and the roasting of fine sausages and marshmallows.
28th of December
Cyclocross Race in Anzère: The Moussa Cross is an amateur cyclocross race takes place in the heart of Anzère! With 3 categories: kids, popular and an elite. In addition, there is a possibility to race on an E-bike in the popular category. From 19:00 you will find a fiesta on the village square with aperitif.
Torch light descent in Saas-Fee: Come to watch the professionals of Saas-Fee show off their skills by flickering torchlight! Time: 20:30, Location: Kalbermatten sports field, Price: Free.
Magic in Champéry: Céleste, a giant 9-metre high lighted puppet, glides over the streets of Champéry. Along with Hot chocolate and hot wine for sale on site.
30th of December
Silvester Market in Brigels: The little village's New Year's Eve market opens from 14:00-20:00 with around 38 different stalls offering food and mulled wine and gifts.
31st of December
New year in Herisau: Appenzell celebrate the new year twice. Once according to the Gregorian calendar, on 31 December, and then according to the Julian calendar on 13 January. On those dates, the Silvesterchläuse mummers roam the streets! Undoubtedly a tradition that you shouldn't miss!
Good to know: Many of the links to the website can only be viewed in the language of the Canton. But don't worry, You can use Google Chrome to translate them.
Also, Several of the Christmas markets that start in November continue throughout December! Such as: Baden, Lausanne, Geneva, Montreux, Vevey, Chur, St. Gallen and Stein am Rhein.