Zurich is an amazing place to visit if you're looking for magical Christmas vibes and experiences. Not only that the city is home to several Christmas markets but also: It host incredibly magical Christmas activities! Such as: The singing Christmas tree, the sparkling Lucy Lights and the red little "Märlitram" by Jelmoli.
The Christmas Markets:
The old Town- This is Zurich's oldest Christmas market. Located in the area of Niederdorfstrasse with numerous stalls offering lovely gifts, mulled wine and other foody snacks and bites. Undoubtedly, a must visit while strolling around the old town.
This market is open Daily, Mondays to Thursdays from 11:00-21:00. Fridays and Saturdays 11:00-22:00 and Sundays 11:00-20:00.
The Christmas Village– One of Zurich's largest Christmas market is nestled right Infront of the Opera House. Zurich's "Wienachtsdorf" (which mean Christmas village) is definitely one of the most beautiful Christmas markets in Switzerland. Certainly cannot be missed if you want to enjoy the Christmas spirit in town!
In addition to around 100 stalls from delicious food to gifts and handmake goods. You can also find here a huge Christmas tree. Plus, an impressive amount of cozy little corners and booths to eat, drink and enjoy the atmosphere.
Opens everyday from 11:00-22:00 and on Sundays from 11:00-20:00.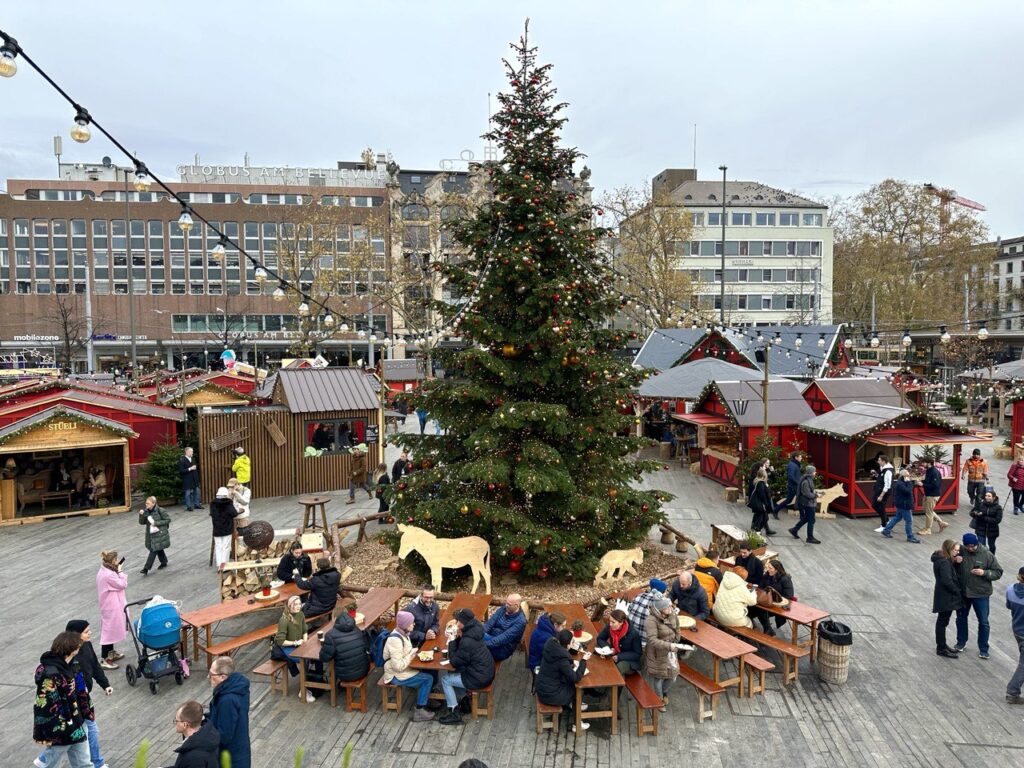 Zurich Main Station- One of the largest indoors Christmas markets in Europe! with a stunning 10 meters tall Christmas tree and around 140 different stalls offering delicious foods, spices, little treats and other gifts.
Fun fact: there are bikes you can paddle around the tree and burn all those calories! Also, They say that the Christmas lights shine brighter when you do.
Opening hours: Mondays to Wednesdays from 11:00-21:00, Thursdays to Saturdays from 11:00-22:00 and Sundays 11:00-21:00.
Münsterhof- The charming little market in the Münsterhof invites you to try some of the local products and enjoy warm chestnuts, snacks and lovely hand crafted gifts. Furthermore, You can find here a culture tent offering atmospheric concerts, readings, and workshops.
Opens daily from 11:00-21:30 and on Sundays from 11:00-20:00.
The singing Tree: The Christmas market at Werdmühleplatz is the magical corner where you will find the Singing Christmas Tree. In the picture below or in the Link you can find the schedule of the shows and singing. Along with it, there are several stalls with mulled wine, fun yums and a carousel.
Opening hours: Mondays to Thursdays from 16:00-21:00, Fridays 16:00-22:00, Saturdays 13:00-22:00 and Sundays 13:00-21:00.
Other fun activities:
The Lucy lights- Walk along the Bahnhofstrasse and explore the famous 11,550 light crystals called the Lucy lights.
Illuminarium– the inner courtyard of the National Museum invites you to a winter wonderland of light, music, and culinary delights.
"Märlitram" by Jelmoli- The marvelous little red tram driven by Santa is the perfect way to enjoy a ride in the city with Christmas stories told by two angels. Tickets can be bought here.